Launch event for EASAC Report on "A sea of change: Europe's future in the Atlantic realm"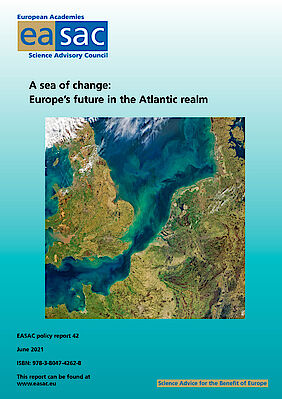 For registration click here!
Webinar background:
Europe's history and future are inextricably linked to the state of the Atlantic and the major circulation patterns that generate Europe's climate, define its ecosystems, and influence the weather that defines our agriculture and provides the energies that we now harvest from hydropower, wind and even waves. Whether we can rely on historical patterns to continue, or whether they may change dramatically with the planet warming is a critical question.
This 2 year study from EASC's scientists addresses these questions head on and looks at the future threats and opportunities that arise from our knowledge of how the Atlantic is changing.
This webinar will present the results of this work by the chair of the expert group (Tor Eldevik) and another member of the expert group (Martin Visbeck). To take part in the panel discussion we will also welcome several important stakeholders. Join us for a stimulating discussion covering everything from Europe's climate, fisheries, marine ecosystems to supply of renewable energy.
Confirmed speakers:
Professor Tor Eldevik, University of Bergen and Bjerknes Centre for Climate Research
Professor Michael Norton, EASAC Environment Programme Director
Professor Martin Visbeck, Kiel University, GEOMAR Helmholtz Centre for Ocean Research Kiel
Mr Pierre Karleskind, Member of the European Parliament
Ms. Annette Hurrelmann, Head of Unit, DG Maritime Affairs and Fisheries, European Commission
back to overview