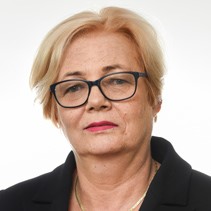 Lidia Gawlik
Associate Professor of the Mineral and Energy Economy Research Institute, Polish Academy of Sciences, Krakow, Poland
Dr. Lidia Gawlik was graduated from the AGH University of Science and Technology in Krakow as a specialist in mining (1989). From that University received PhD dissertation in mining (1991) as well as D. Sc dissertation in mining economics (2010).
She has been employed in the Mineral and Energy Economy Research Institute of the Polish Academy of Sciences since 1986. Appointed to serve as deputy director for research of the Institute in 2003 and still continues this position. She is also a head of the Division of Minerals and Energy Sustainable Development at the Institute and active member of the World Energy Council.
Her research interest is in sustainable development of fuel and energy, environmental aspects of energy production, forecast of energy and fuels sectors development, fuel mix for energy production, competitiveness of primary energy sources, processes of energy sector transformation.