EASAC Awarded "Think Tank of the Year"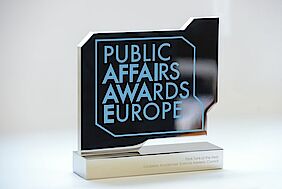 The European Academies' Science Advisory Council (EASAC) has been awarded "Think Tank of the Year 2018" at the Public Affairs Awards Europe, an annual awards ceremony that recognises excellence in EU affairs held on 21 November 2018.
This is a great honour that recognises the rigorous efforts of the Bureau, Council, Steering Panels, Working Groups, the Academies as a whole, and all the members of the Secretariat to bring evidence-based advice to policy-makers' attention.
To emphasise this honour, some of the past awardees of Think Tank of the Year have included Bruegel in 2017 and previously the Centre for European Policy Studies.
The awarding body is the PRCA: "Founded in 1969, the Public Relations and Communications Association (PRCA) is a UK-based PR and communications membership body, operating in 67 countries around the world."
Over the past year, EASAC was mentioned in 300+ articles, TV interviews, and radio stories; 20+ million people viewed articles mentioning EASAC, and EASAC's reports were also prominently featured via two expert appearances on BBC World News. Its reports were discussed and debated via 70,000 social media shares.
Congratulations to all of EASAC's Member Academies and Secretariat!
back to overview
Further News & Academies' activities
All News