Public launch of EASAC report on "Food Security" in Brussels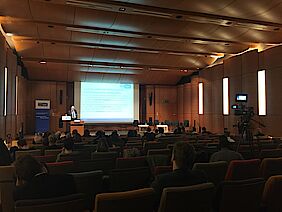 Downloads
Links
On 26 April 2018 EASAC has publicly launched its report on "Opportunities and Challenges for Research on Food and Nutrition Security and Agriculture in Europe" in Brussels.
Below you can find selected presentations as well as videos of all parts of the event. A photo documentation can be found in the bottom of this page.
Programme
10:00 Welcome and introduction
Professor Volker ter Meulen, President of IAP, EASAC Biosciences Chair, Project Co-chair
10:10 Presentation of report
Professor Joachim von Braun, Center for Development Research (ZEF), University of Bonn, Project Co-chair
10:30 Link to European initiatives
Mr John Bell, European Commission, DG Research, Director of Bioeconomy - watch video of speech here.
Ms Karina Angelieva, Counsellor for Education and Research, Permanent Representation of the Republic of Bulgaria to the European Union - watch video of speech here.
11:00 Panel discussion
moderated by Dr Robin Fears, EASAC Biosciences Programme Director
Mr Thomas Waitz, Member of the European Parliament
Mr Adrian Leip, Joint Research Centre of the European Commission (Unit D.5 Food Security)
Professor Anne-Marie Hermansson, Biology and Biological Engineering, Food and Nutrition Science, Chalmers University of Technology, Gothenburg
Dr Aleksandra Malyska, Executive Manager, Plants for the Future, European Technology Platform
Dr Nevena Alexandrova-Stefanova, FAO Regional Office for Europe and Central Asia
Watch video of panel discussion here.
11:30 Questions from the audience (Prof. von Braun) Watch video here.
11:45 Close of event
Watch interviews with Professor ter Meulen and Dr Fears here.
Photo Gallery:
back to overview
Further News & Academies' activities
All News